relatable relationship
experts
We've been where you are


We are not perfect people and neither are our relationships. Everything we bring to this community is something we have tried out in our own offices or our homes. There's nothing wrong with where you've been, or where your relationship is right now, the important thing is that you're here and you want things to be different!


We believe in keeping it real


We pride ourselves on giving you honest, straightforward information…even if it stings a little.


All relationships can be successful…if there is willingness...


When you have been working with couples as long as we have, you've seen some pretty stuck relationships and individuals AND even the most painful parts of your struggle can change if there is WILLINGNESS. As long as you (and your partner(s) if you are in a relationship) have at least 1% willingness to do something different...there is hope.


This is a no judgment zone


We are committed to creating and maintaining a non judgemental, anti-racist inclusive space. Regardless of your sexual orientation, gender identity, relationship status and relationship history…we believe in providing information and education that is free of judgement and open as possible. We believe in continuing to learn and to be curious towards what we don't know…or what we think we may know that could be wrong. We know we won't always be right, we will get it wrong sometimes, and we firmly believe in owning that.
We are Rachel Facio & Stacey Sherrell, the duo behind Decoding Couples. A lot of people on Instagram call us "those dancing therapists that do reels."


We are both licensed marriage & family therapists with a combined 20 years of experience in the field of relationships & marriage.


Our mission is to take the complications out of communication, help you break unhealthy patterns and connect in a way that makes your grandma blush.


Jokes aside, we are your one stop shop when your relationship needs change and support and therapy just isn't accessible right now. We help end cyclical fights, extinguish hot spots and breathe life back into the bedroom. We also walk you through how to know for certain a relationship is worthy of moving to the next step or not. Wherever you are in your relationship journey (post break-up, single life, situationship, long term partnerships or marriage), we got you! We are known for ditching the fluff and giving you no-BS tools that allow you to see and FEEL tangible change.
Decoding Couples is a pandemic baby. Rachel came up with Decoding Couples originally as a Youtube series with the idea that she and other guests would decode the complicated ins and outs of relationships. Stacey was her first guest and it became obvious,VERY quickly, that it was way more fun discussing these issues together since it is what they had already been doing when the camera wasn't rolling. Behind the scenes, both Stacey and Rachel were struggling in their personal relationships and couples therapy just wasn't in the cards. They knew their relationships needed change, but all they could find was fluffy self-help tools that didn't address issues in a real way.
They realized this space needed to exist and they would be the ones to create it with their personal and professional experiences. One day, Stacey walked into Rachel's office with an Instagram page set up and ready to go, and viola, Decoding Couples was official. In just over a year, Decoding Couples has become known for hilariously informative reels and self-paced courses that are creating REAL, positive change for individuals and couples…without ever needing to leave their couches.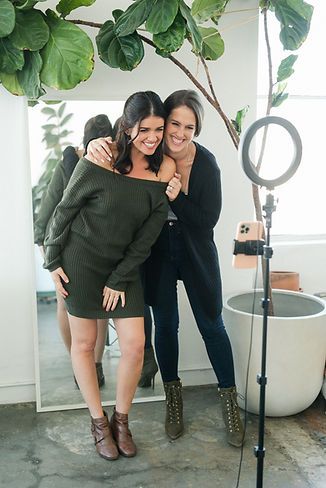 © 2023 by Decoding Couples®
Material intended for adults 18+
Information on this website is NOT meant for therapy purposes.